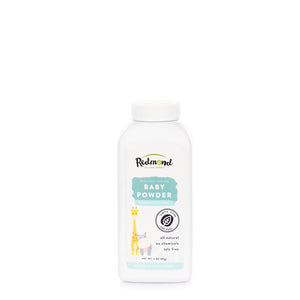 Redmond Clay Baby Powder (3 oz.)
Searching for a simple, clean, real, and effective way to keep your baby's skin soft and dry? Redmond Clay Baby Powder is for you! Made with 100% bentonite clay, this soothing, talc-free formula is perfect for your baby's sensitive skin. Just apply a dash during diaper changes to keep your little one's skin looking and feeling its best. Or if your own sensitive skin needs a bit of nurturing, use it as a body powder.
Talc-free baby powder

100% natural sodium-calcium bentonite clay

Contains no additives, fragrances, or animal products

A must-have for new parents
Regular price
$8.79
$0.00
Unit price
per
Reproductive harm
I bought the Bentonite clay and it works wonders on burns. I bought the face masks and baby powder but my girls won't use any of it due to reproductive harm. I have read the prop 65 but I don't understand if your products cause harm or if California thinks they do. That's an awful big chance we are taking with this label.
Thank you for your response, Michelle! Redmond Life is committed to selling products that are safe to use and that comply with all applicable laws. That is why we include the Prop65! Although you should always pay attention to warnings, the presence of a Proposition 65 does not necessarily mean that your product is unsafe. The State of California requires businesses to notify consumers if their products contain any chemicals outlined in the Prop65. Some of these chemicals naturally occur in water, soil, and clay--which happens to be an important ingredient in our baby powder!
The Prop65 can be confusing. That being said, your family should use whatever products make them feel confident and healthy. Thank you for trusting our company! We love being a part of your journey.
double gramma!
I saw this product, but it was out of stock for a while and had just found out that both my kids are expecting and within 10 days of each other! So, I bought a big bucket of the clay and two really cute powder dispensers from Etsy (a mushroom for my very green thumbed daughter in love and a piggie for my daughter). They're both very excited to use on the babies when they come in January. Of course, I have my own dispenser as well (a whale) and more buckets of clay for when I'm babysitting! I will share all your comments with them, which will make them even more excited, I'm sure!
Congratulations, Gina! Thank you for sharing your review (and your news!) with your second family at Redmond Life. We love being a part of your journey.
Baby Boy loves getting his "powda"
Great natural powder that is talc free (not sure why the California prop warning then), but regardless, it keep his skin soft and dry and he loves getting it put on. Definite must if you have a young one around - or even for yourself.
Miracle powder
Amazing stuff!! I tried lotions to treat my baby's diaper rash and nothing really helped. Then my sister gave me this powder and, believe it or not, after putting it on ONCE the rash was almost gone.
I will order a couple of them to give them to other moms as a baby gift.
Highly recommend It!!!
Thanks for sharing your experience!
Love it for rescue dogs...
I have been rescuing dogs that have hair missing skin chafing have surgical sites that have been shaved down with horrible rashes that will start and RC has always fixed my issues. Except now I have a new one after moving to Florida and still doing rescue I could not find your product anywhere so I had to order it immediately. I can't wait to get it because one of the dogs that I have in my rescue now has no fur on her abdominal Underside area and the skin is chafing and horrible rash chafing and horrible rash I guarantee this is going to fix her problem it works for me in Michigan for multiple of issues. Thank you for making such a great product
Thank you for this incredible share and for your rescue efforts and commitment to dogs. We are so happy to hear Redmond Clay has been a part of their healing journey!