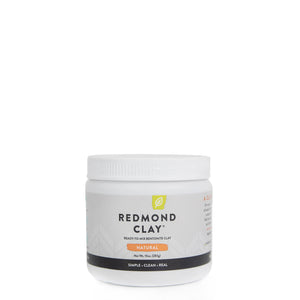 Redmond Bentonite Clay (10 oz.)
Redmond Clay is a pure, bentonite clay (also known as montmorillonite clay) that we mine ourselves, not too far from our salt mine near Redmond, Utah. Deposited many years ago as the ash of now-inactive volcanoes, it's unique in that it contains both calcium and sodium (with twice as much calcium as sodium). It also includes a blend of natural, beneficial trace minerals. We gather it from the earth, crush it into powder, and put it in a jar or bucket without any additives, chemicals, preservatives, or other fillers.
You can use this ready-to-mix powder in your mud masks or other home recipes that call for bentonite clay. Our simple recipe for a facial mask is one part Redmond Clay to two parts water. Mix into a smooth, creamy paste, adding water as needed.
The 10-ounce size is great for travel. Or use it to test out the other benefits you'll read about in the
research
,
scientific reviews
,
articles
, and
recommendations
for clay.
Regular price
$14.49
$0.00
Unit price
per
Wonderful product
Gentle and effective even on my dry skin. Soothing. In the past, other clays I've tried have been too drying or irritating. Not this! It's a keeper.
Sounds like a total skincare WIN, Debra! Thanks for sharing your experience.
great stuff!
Excellent salt, clay mask and toothpaste! Very grateful for your efforts.
Thank you for giving so many of our products a try, Maxine! We're so glad you're a fan.
Great products
Love the toothpaste and already see a difference. The salt is good as well. Have not used the clay yet but will soon. The quality of these products are great. Thank you.
!
We can't wait to see what you think of the clay, Maria!
Redmond Bentonite Clay (10 oz.)
Leaves skin clean & soft!
This clay has helped relieve my acne as well as make my skin clean and soft. I mix the clay with a little olive oil, honey, and water and the mask works wonderfully. It is also nice without those other ingredients but I find the olive oil and honey added to the clay makes an even better mask.
We love that you made the clay your own, Gregory! Thanks for sharing your great ideas.